World first container-less cell processing platform - Levcell
Levcell uses acoustic levitation to levitate cell-containing droplet in the middle of the air, effectively eliminating the liquid-solid contact surface, and therefore eliminate sample loss.
We use both active and passive control of the ultrasonic transducers, humidity and temperature to maintain a stable environment for cell processing, including cell lysis, reduction, alkylation, and isotope labeling.
After sample processing, digested peptides are directly loaded onto a sample loading column and then injected into the LC-MS system for analysis.
This fully automated system can run in parallel, greatly accelerate the cell sample preparation process.
See our pre-print at: https://doi.org/10.1101/2022.07.26.501646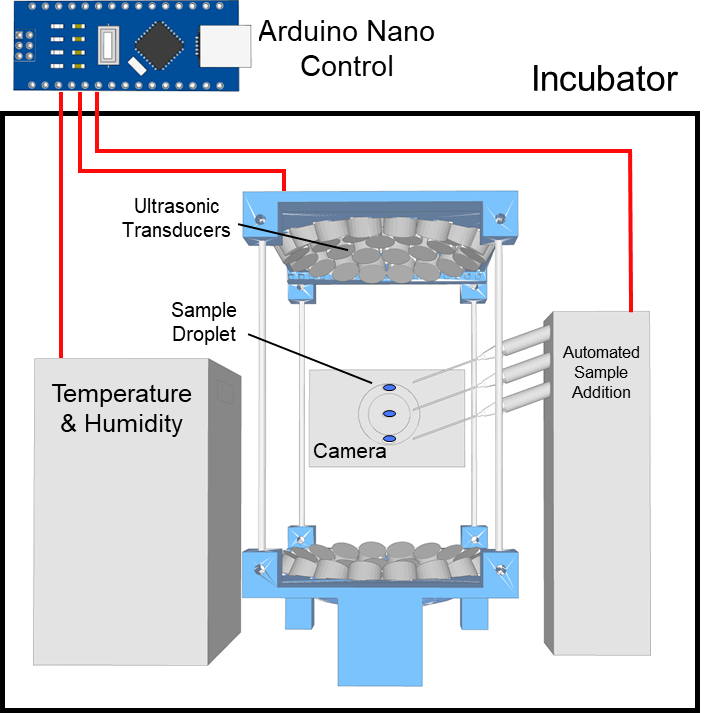 Our system levitate a wide range of cells, including this fish egg (~ 1 mm)
Our system can levitate a large variety of cells in the air and stabilize it for hours for processing without any sample loss.
The third iteration (Levcell V3) of the automation system
Parallel and automatic processing of single cell samples. For visualization purpose, food color is used here, not real reagents.
The second iteration (Levcell V2) of the automation system
Our platform enables automatic addition of reagents and sample injection, eliminating all the liquid transfer steps.
Comparison of Levcell (container-less) and container methods

PSM/Peptide/Protein Intensity Comparison of Cell Processed with Levcell (Lev 1&2) vs PCR tube (PCR 1&2)

PSM/Peptide/Protein ID at different Signal-to-Noise ratio, Levcell (Lev 1&2) vs PCR tube (PCR 1&2)

Peptide Intensity Loss to PCR Tube (measured by Log2Fold) Directly Correlates with Peptide Length (A) and GRAVY (B) Score.
Peptide Length and GRAVY Score Has No Direct Correlation (C).